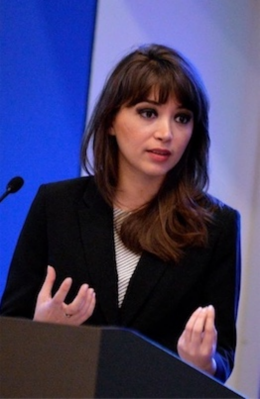 Dr. Özge Bilgili is an assistant professor at the Faculty of Social and Behavioral Sciences of Utrecht University. She has been awarded as a Thomas J. Alexander fellow at the Education and Skills Department of the OECD and is currently working as an associated researcher for the Strength through Diversity Project. Her expertise is on immigrant integration, social cohesion, transnationalism and education research and policy analysis in relevant areas. She has also worked extensively on migration and development issues, forced migration and return and reintegration research. Please see "Research Projects and Teaching" section for more information on her previous research experience.
     Since 2016, Dr. Özge Bilgili is the chair of Dutch Association for Migration Research (DAMR) and highly involved in other academic networks. She is the co-coordinator of IMISCOE Standing Committee on Interactions of Migrant Integration and Transnationalism in Europe (IMITE)  and an affiliated researcher of United Nations University – Merit.  As an assistant professor at Utrecht University, she is also part of European Research Centre on Migration and Ethnic Relations (ERCOMER) and the Inter-university Center for Social Science Theory and Methodology (ICS).
     Dr. Özge Bilgili is also regularly involved in commissioned research for country governments and international organizations (IOM, UNHCR, MPI, MPG, and SDC), participates in capacity building activities and presents research findings to practitioners, policy makers and academics. For more information and questions on her ongoing and previous work, please contact her at: o.bilgili@uu.nl
Recent publications in 2016-2017
Upcoming book in 2017
Volante, L., Klinger, D., & Bilgili, O. (Ed.) (Forthcoming). Immigrant Student Achievement and Education Policy: Cross-Cultural Approaches (Policy Implications of Research in Education Series). Springer Press.
Academic events in 2017
Thomas J. Alexander Fellowship Annual Meeting, Paris, November 2017

XXVIII IUSSP International Population Conference, Cape Town, October 2017

IMISCOE Annual Conference 2017, Erasmus University Rotterdam, Rotterdam, June 2017

Impacts of Refugees and IDPs on Host Countries and Host Communities​ Conference, World Bank, Washington DC, June 2017

Canadian Society for the Study of Education Conference, Ryerson University, Toronto, May 2017

Migrant Decision-Making in 'the digital information age', DAMR Spring Conference, WODC, the Hague, May 2017

Social Value Matters Conference 2017, KUSIF & Social Value International, Koc University, Istanbul, April 2017

Beyond Crisis: Rethinking Refugee Studies, Oxford University, March 2017